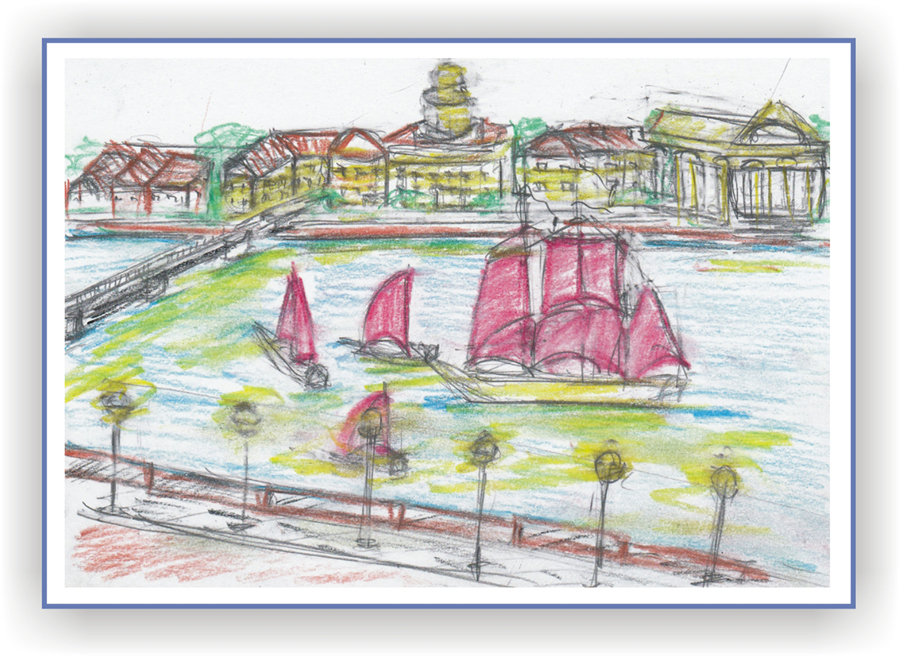 I have so many things to do with school! New meetings, new friends and first independent actions. Our first few years taught us a friendship that never ends, and to this day I rejoice at the possibility of any meeting. My sister and I are the best friends from childhood. I think that we were lucky with our first, who remained first for life, teacher Svetlana Viktorovna Sazanova.
She was both a strict teacher for us, and at the same time a kind, all-understanding mother. Every time we got together, how happy she was, how much she remembered! It's a shame that she is no longer with us. First, her husband, the kind and cheerful Slava, left, then, then, their son Alyosha suddenly left this world, and now our kind teacher herself said goodbye to us all.
I know that each of her students will always remember her with a kind word. Her work was so modest, but how it enriched us all for life.
I live far from my beloved city, from my kind and faithful friends, but in my thoughts I am often transported to our childhood, naive and joyful times – my first meetings, first feelings, such reverent and tender expectations of happiness for many many years… School stories – how many there were, and how funny it is to remember them today from the height of our age, life experience and position .
But somehow our life has developed, which has a direct connection with our school experience, and the first awkward attempts to solve our first problems, to work and achieve, to go towards our goal from a small one to an increasingly serious one, to learn to be close to others. And not only to be in the same group, but also to coordinate your activities and actions in agreement with others, to be a member of a well-coordinated team. I think my school experience helped me a lot in life. It was there that I first felt the taste for working with people, realized that I had something to offer them, and never regretted my efforts. I studied well and participated in school life, read poetry, tried myself in different directions, and loved it. Yes, no matter how funny it sounds, she loved with all her soul, without explaining her feelings to anyone, but she was filled to the brim with this first wonderful feeling. This feeling has been a part of me for many many years, and has never stopped me from living; on the contrary, it has filled my life with special meaning and content. It was strange, because at that time I did not explain myself to my friend, accepted his faithful childhood and youth friendship as something completely natural, and could not imagine if he were not there. Now, from the height of my years, I understand that I came up with my first hero, added additional touches to his portrait, complemented and endowed him with qualities that were so important to me, and never doubted the reciprocity. Today I, a matron wise with life experience, remembering and experiencing everything again and again, do not regret a single second and do not doubt the reality of my feelings and experiences. Was my love mutual? I don't think I know or will find out the answer to this question. A wonderful, extraordinary, unforgettable feeling… It seems to me that this was and remains a gift of fate, an opportunity to test such a high feeling, and most importantly, that my love opened up new horizons for me in communicating with people, the ability to love and be tolerant. How this has helped me in my life! How this fairy tale influenced my whole life is difficult to overestimate, but I understood the main thing – if you truly love, you want only one thing – for your chosen one to feel good, and whether you are the reason for his happiness or not is not so important. If you try to fight against the existing and current situation, try to change everything and push him to make these changes, then all this is just evidence of your own selfishness, and nothing good will happen. Which have not be avoided…
The main gift of my life is my sister, my other self, my twin. We are different, but we understand each other very well, moreover, we complement each other, and we are never bored together, we always have something to share and discuss. I know that there cannot be a best friend and I am grateful to fate, which saved us for each other when our mother struggled with death, allowed us to grow side by side, develop as individuals, helping and enriching each other. It's great that we have common memories, common experiences, common friends! My life wouldn't be complete without my soulmate.
Illusions, illusions, illusions… How many of them there were, how many more there will be!
I think God saved me from serious turmoil when I had to admit the truth of life, no matter how hard it was.
Maybe as I got older, I just began to relate to such shocks differently? I don't know the right answer. What is the correct answer? Who said that it is one way and no other way, what is normal and not normal, who is the judge?..
It is difficult to come to terms with the loss of a friend. Here is one example of my illusions – after all, I thought they would last my whole life – but it turned out badly. Who did I not know – myself or him? Where did you go wrong?
I'm used to taking the blame on myself – I probably took on too much and promised too much, I shouldn't have extended my hands with or without reason, but guided and been there. What disappointment befell me – I have never lost a friend before, but how? – has become an enemy, vilifies him on all corners, is full not of gratitude, but of envy and anger.
What is it like to come to your friends, and the first thing is to hear these terrible and undeserved accusations from them – what happened, how could you abandon your friends in the most difficult time for them – immigrants? I still wonder why suddenly my best friends stopped trusting me? Why should I, having done more than others, have to justify myself that I did something wrong and that I didn't do anything at all, supposedly leaving them hungry, without bread, on the street… This is a serious shock for the rest of my life. I thought for a long time whether I should make excuses, tried to explain what my friends did not know… But the more I tried, the more I wanted to stop these explanations once and for all.
There is so much more to experience in life! But I love life, and I enjoy every experience, even the sad ones…